Eid Mubarak! For most Muslims today marks the end of Ramadan and the celebrations of Eid al-Fitr. We thought it would be a great occasion to celebrate our favourite Muslim superheroes in comic books and share some interesting facts about them. 
Without further ado, here we go!
1. Kamala Khan (Ms Marvel)
Created by G. Willow Wilson, Sana Amanat, and Adrian Alphona, Kamala Khan is a Pakistani American superhero known as the current Ms Marvel. Hailing from Jersey City, she is the daughter of immigrant parents and balances her hero work with her schoolwork and personal life. Part of that personal life involves practising her Muslim faith with her friends and family, which occasionally helps out with her superhero antics. In one instance, the head of the family mosque, Sheikh Abdullah, gives her good advice about her attempts to be a hero without knowing about her powers.
She is Marvel's first Muslim superhero to get their own standalone comic in 2014 and will become the first on-screen Muslim superhero when her show is released later this year or at the beginning of 2022 on Disney+.
2. Simon Baz (Green Lantern)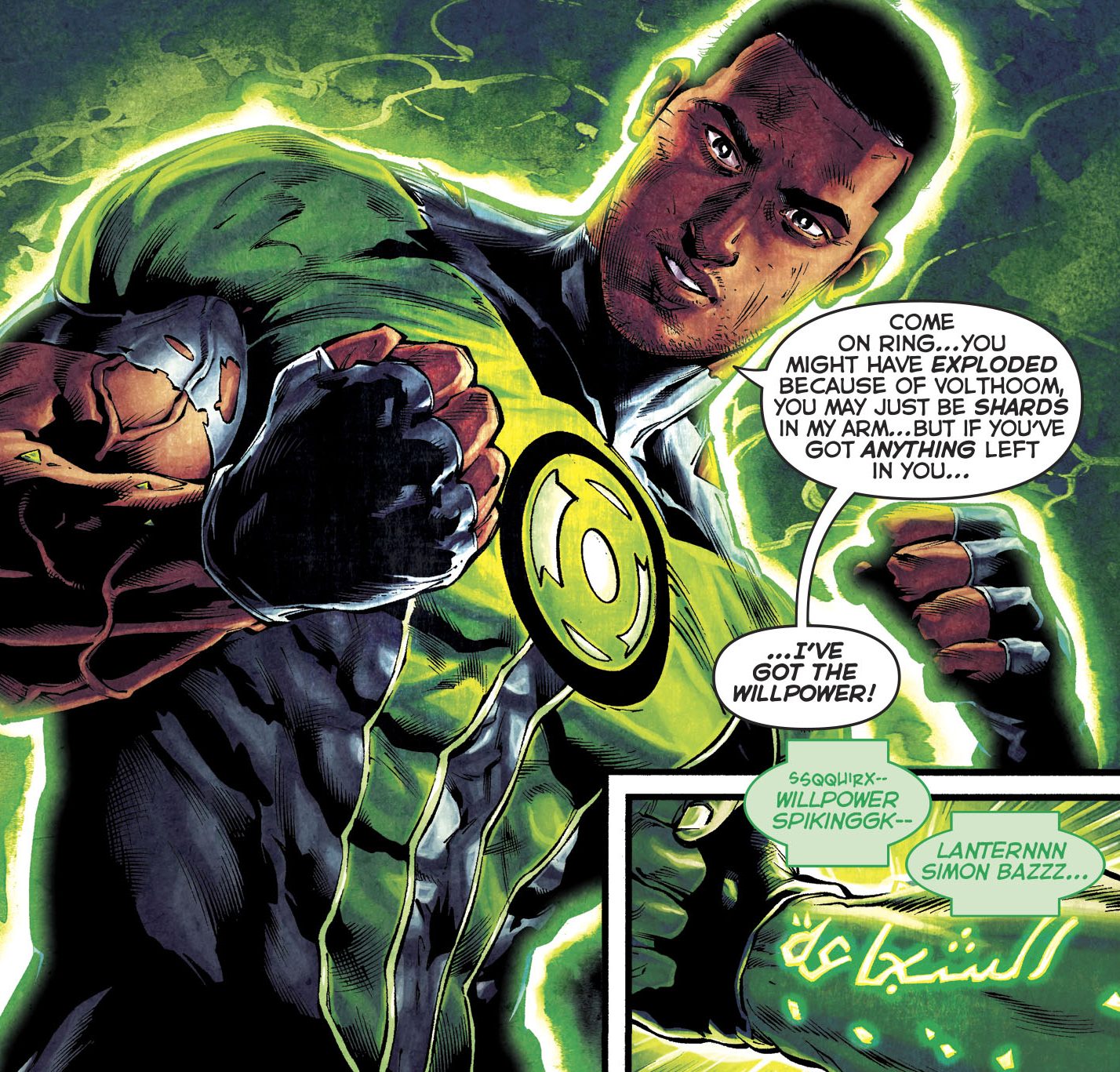 Simon Baz is a Lebanese American who becomes the first Muslim member of the Green Lantern Corps. Simon's Lebanese heritage was inspired by Geoff Johns, who is half Lebanese and the co-creator of the character alongside artist Doug Mahnke. Growing up, Baz is persecuted for his ethnicity in the aftermath of the 9/11 attacks. As a young adult, he is chosen to become a Green Lantern after attempting to save lives by driving a stolen car into an abandoned car factory after discovering it was filled with explosives.
3. Soorayah Qadir (Dust)
Soorayah Qadir is a mutant who becomes a member of the X-Men. Originally born in Afghanistan, she discovers she has the power to turn into a sand-like substance after attacking a slave trader who tried to remove her niqab (the facial part of the clothing known as the abaya). She is taken to the X-Corps base in India, where she initially turns into sand to hide from the X-Men stationed there. Jean Grey senses her presence and telepathically convinces her to reveal herself.
When Soorayah reforms, she announces herself with the word "Turaab," an Arabic word that means dust. The word stuck and from then on, her teammates would call her by the codename "Dust." Soorayah would go on to become a part of a few X-Men teams, including the Hellion Squad of the New X-men comic series and Cyclop's squad of "Young X-Men." Soorayah chooses to wear traditional Islamic clothing out of modesty. Although this causes friction between the X-Men and their enemies, her faith has enabled her to survive tough battles.
4. Bashir Bari (Silver Scorpion)
Disabled superheroes rarely get the attention they deserve, so having one created by a group of young disabled disability advocates is revolutionary. "Silver Scorpion" is the result of a collaboration project between the publishing company Liquid Comics and the American and Syrian attendees of the 2010 Youth Ability Summit. Silver Scorpion becomes the alter-ego of a Muslim teenager named Bashir Bari. After losing his legs in an accident and later witnessing the murder of a mysterious metalsmith, he is chosen to become the guardian of a power that lets him manipulate metal with his mind.
Launched in Arabic and English in 2011, "Silver Scorpion" features Bashir Bari and other superheroes that are disabled or able-bodied who come together to combat an evil force that threatens the world. Through these characters, "Silver Scorpion" shows that disabled people can come together and be something more. They have the power not despite their disabilities, but because of them.
5. Monet St. Croix
Monet St. Croix is a mutant with a variety of superhuman powers, such as super-strength, invulnerability, dexterity, and speed. She also has invulnerability, a healing factor, a photographic memory, the ability to levitate and fly, and telepathic powers. She has been a member of different branches of the X-Men, including "Generation X" and "X-Factor Investigations." While Monet was a member of X-Factor it was revealed that she was Muslim by having Monet defend her religious upbringing at an anti-Muslim protest similar to the Ground Zero mosque protests that occurred in 2010.
In the Marvel Universe's fictional protest, people shout "America for Americans! We don't need any more Muslim terrorists getting in here! They're just as bad as mutants." At this point, Monet literally flies in and declares, "I'm a Muslim and a mutant!" Since the X-Men have long been a symbol for those who are discriminated against, having Monet do this is courageous. These days, she is a member of Magneto's branch of the X-Men known as the "Uncanny X-Men."
Discover the Popgear range of official Marvel merchandise for kids and adults here.
Discover the Popgear range of official DC Comics merchandise for kids and adults here.
---